Q&A and Faqs
Easily add Q&A and FAQs system to your website with more powerful features available at no additional cost.
User friendly design
The component is designed with user friendly interface to easily access all features even for the beginners.
Faster performance
Designed with simplicity in mind. The code is light weight, loads and runs faster. Runs on shared hosting as well.
Add question and answers or faqs feature to your Joomla! powered website with clean and modern user interface. Enabled with Bootstrap UI, you can quickly switch bootstrap color themes.
Toolbar & Shortcuts
Quickly access all pages of the component with the accessible toolbar. With dropdown menus of all required shortcuts, it is neatly arranged in very less space and uncluttered.
Customize the listings
Trending, featured and unanswered listings are shown in tabs for easy access. Further you can customize the list items and enable or disable different elements such as user avatars, description etc.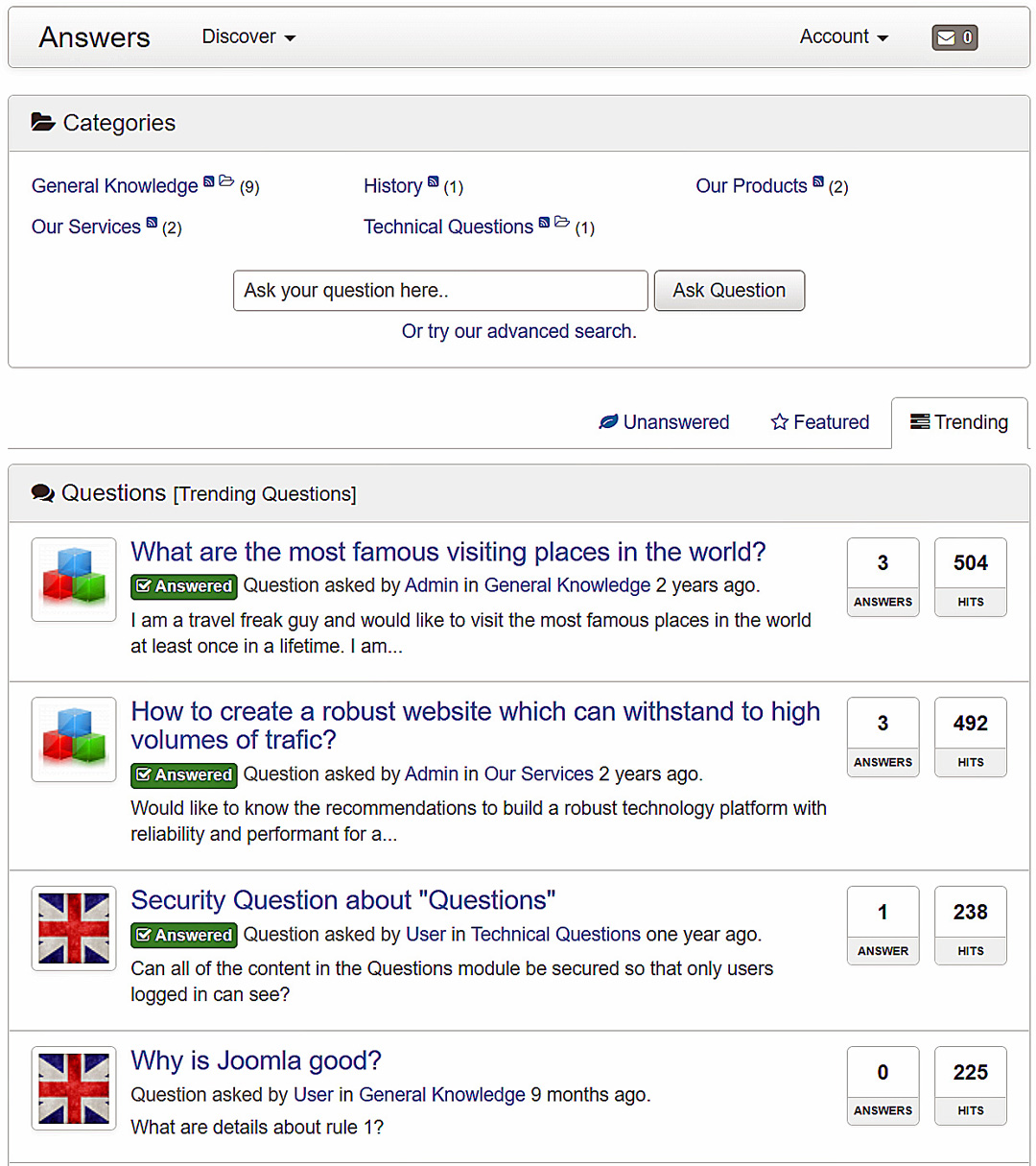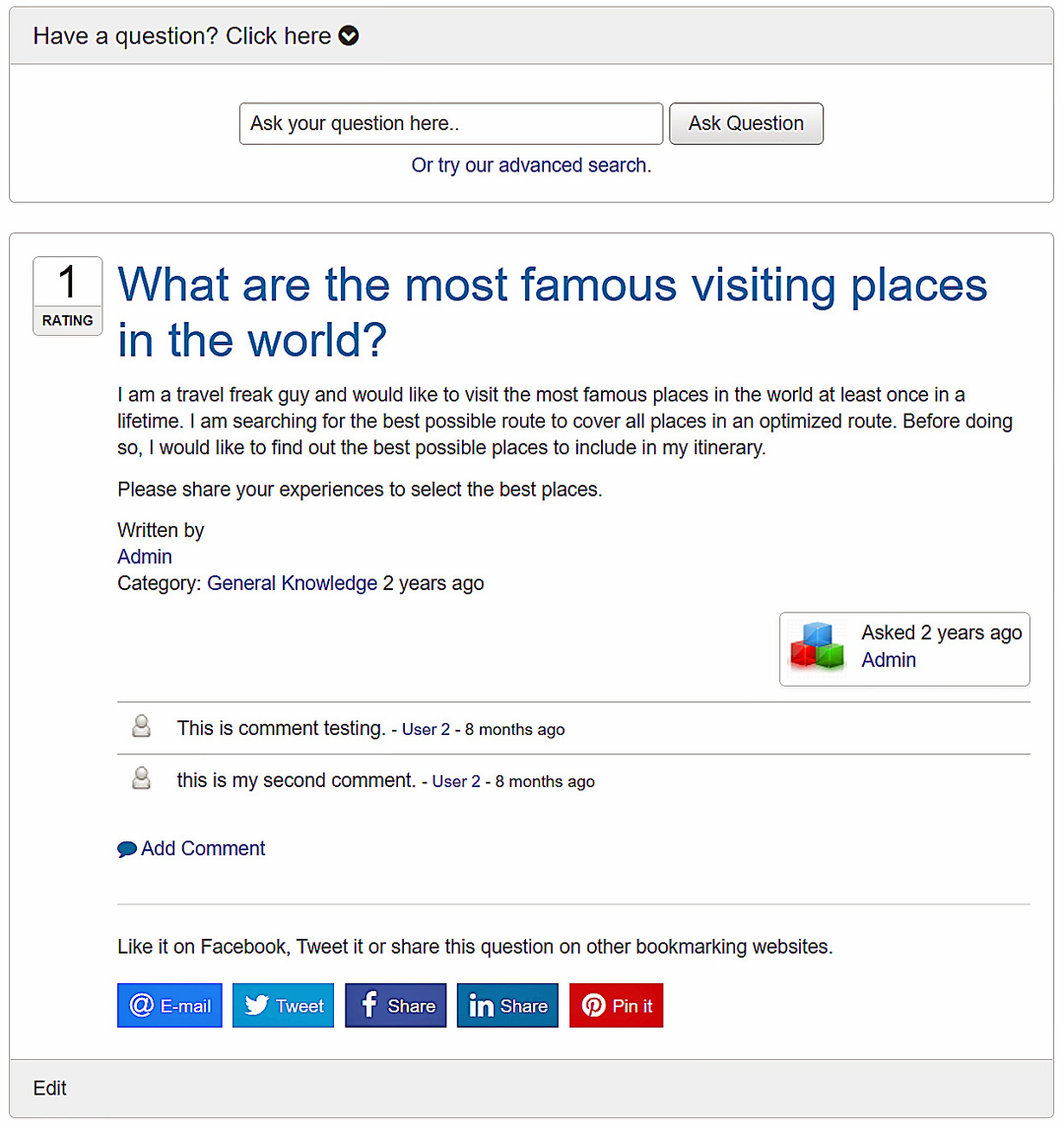 With built-in comments system users can quickly comment on the questions and answers. It is the quick way to get the clarification about the questions before the user can post their answer.
Upvotes and downvotes
Allow users to rate the questions and answers by upvoting or downvoting. Further award points for the votes. With most rated answers shown on top, vistors will always see the top rated answers first.
Social sharing & bookmarking
Allow users to share the questions on their favorite social networks and bookmark them. Most popular social sharing services buttons are provided on the question page.
With the built-in support for Joomla! category system, you can build a robust structure of your questions.
Multilevel categories
Create unlimited multilevel categories and organize all your questions into them. Quickly manage all categories at once.
Category level permissions
Configure permissions at each category for asking questions or answering to questions.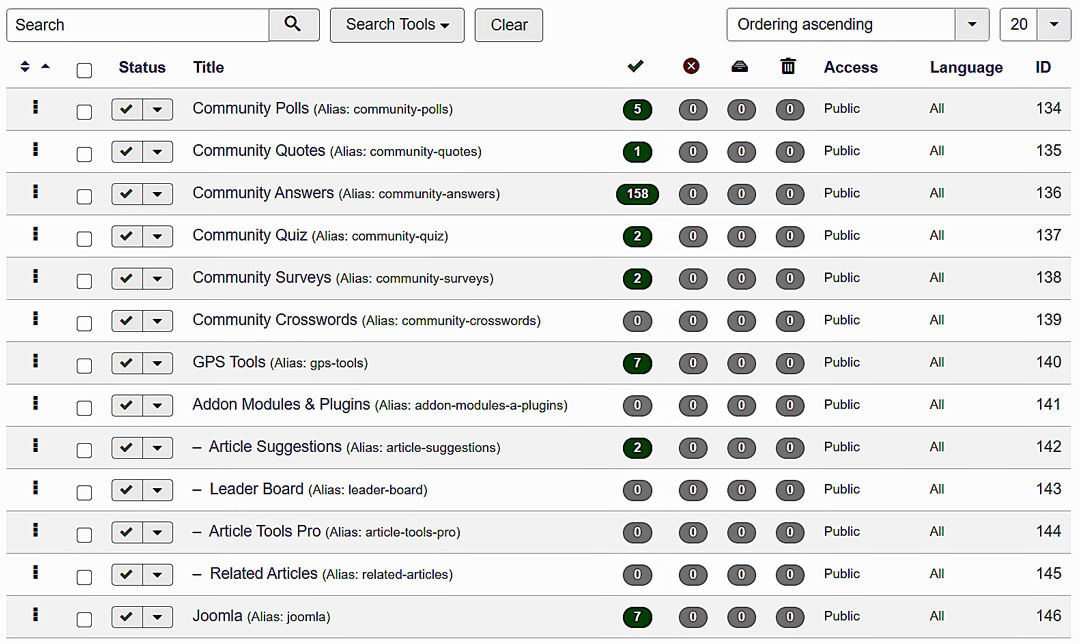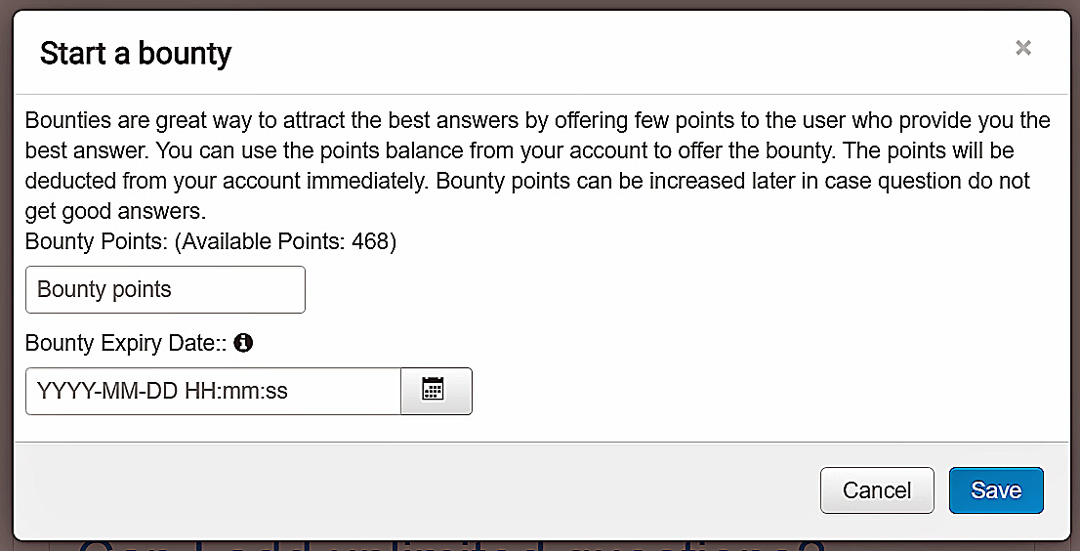 Not getting good answers? Reward users with bounties and get the best answers to your questions.
Award points
With built-in integration with popular Joomla! points system extensions, you can allow users to earn points and use them for creating bounties.
Bounty automation
Automatically award points for best answers or return points when no answer given after certain time period.
Simple yet powerful form for creating questions. Question suggestions, Joomla! editor support, attachments and more.
Question suggestions
Shows existing questions when users started typing their question thereby avoids duplicate questions created.
Joomla! editor support
Create the full HTML enabled questions answers with the Joomla! WYSIWYG editor support.
Attachments
Users can attach allowed types of pictures and documents and can subscribe to the questions from the question form while they are creating the question.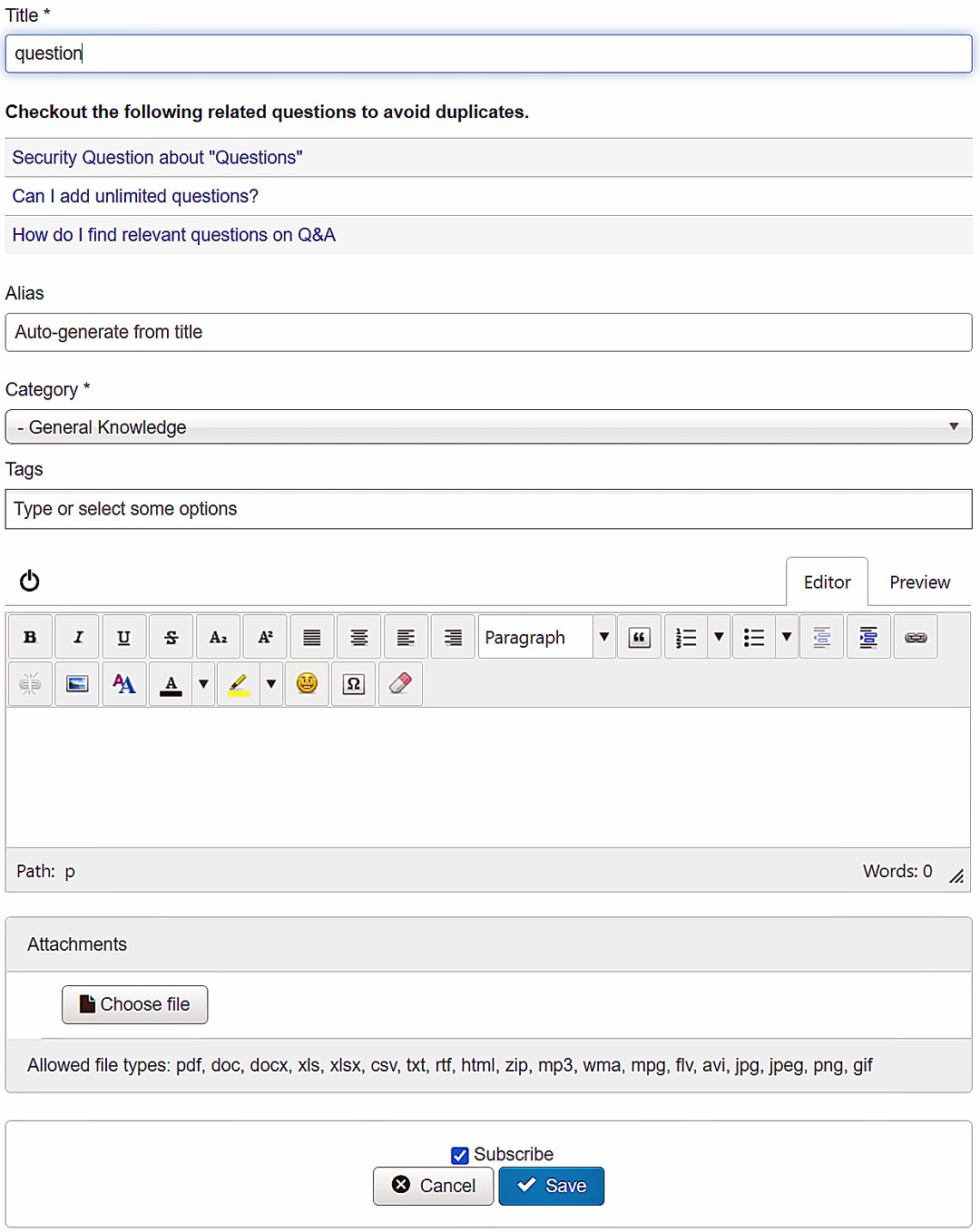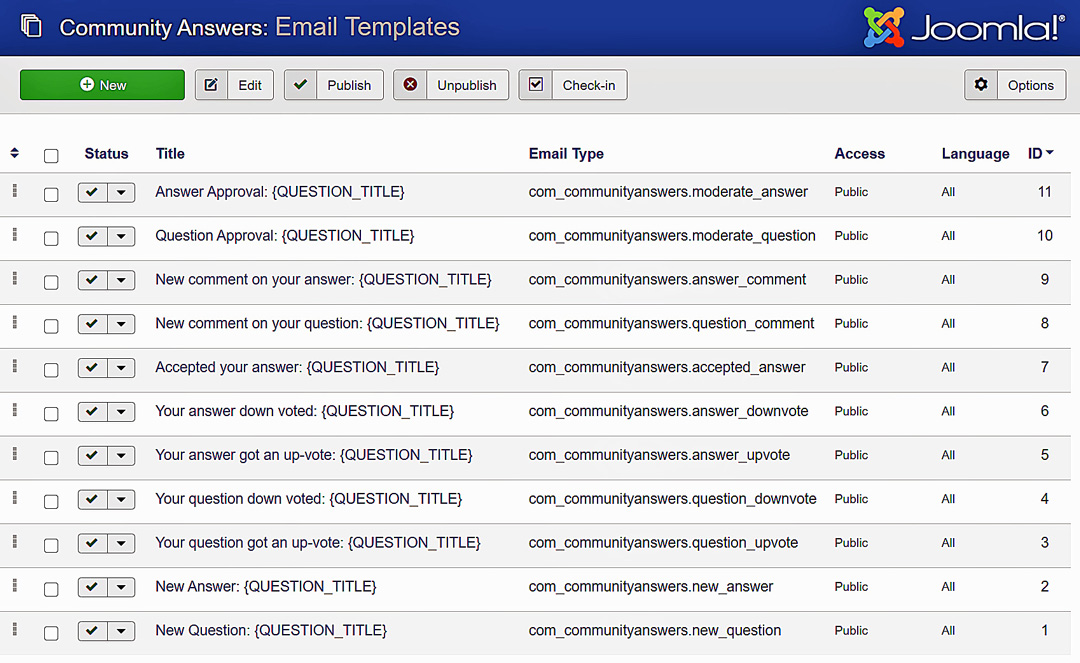 Customize the content of each email sent from the component.
Customize with editor support
Customize the email templates with full HTML editor support
Multi-language support
Create different emails for each language and they are automatically selected based on user languge.
The component bundled with most needed modules and plugins.
Modules
Publish important statics of your Q&A system, show latest or popular questions, top users or question categories on any module position you want.
Plugins
The extension comes with all required integrations plugins to support activities, emails etc.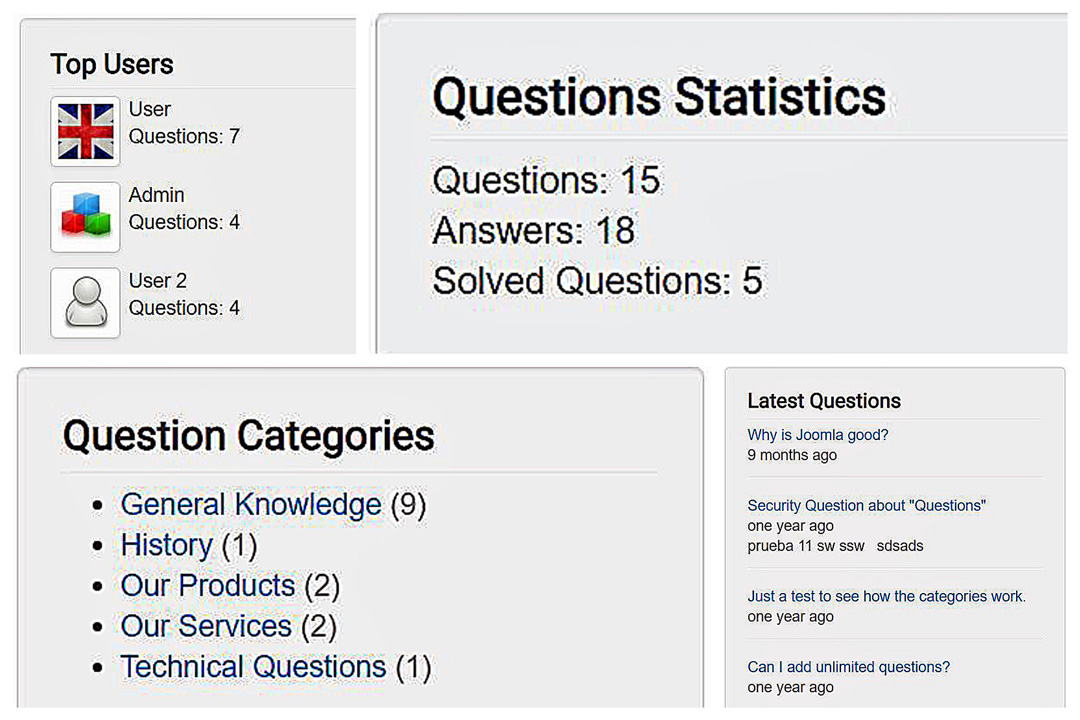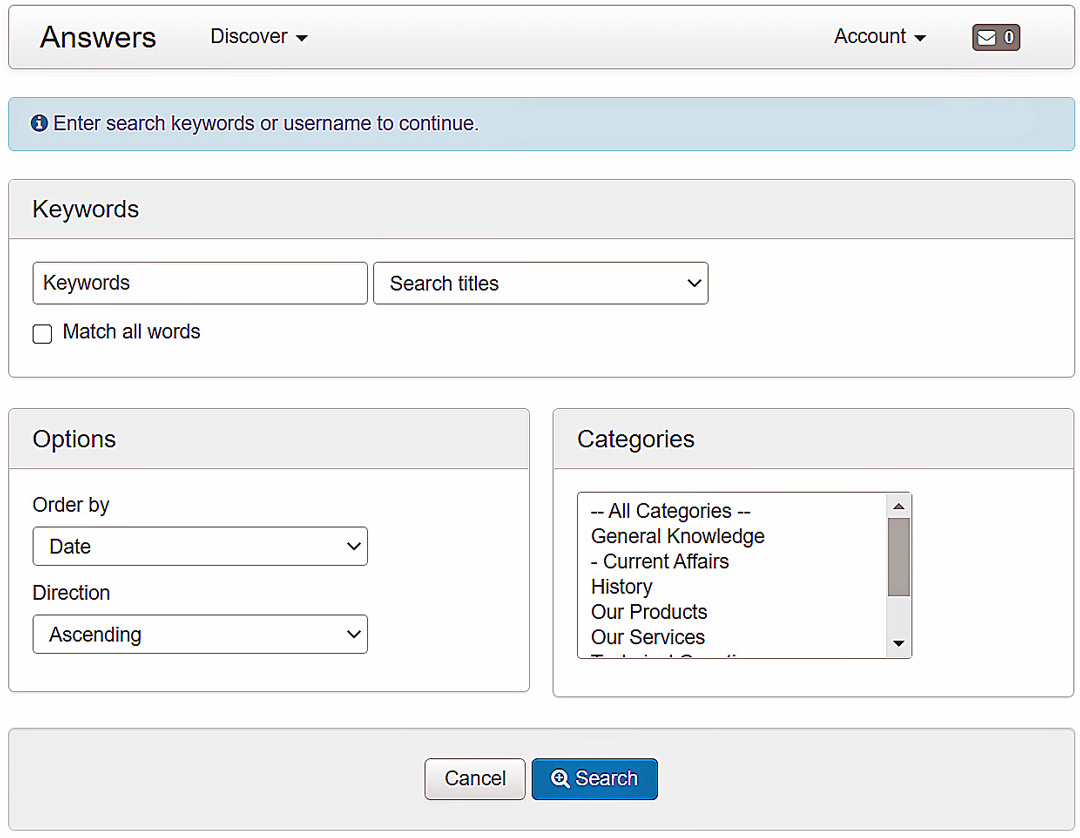 Community Answers has inbuilt search page to search questions.
Search page
With the built-in search page, users can search precisely whatever the content they want.
Search & finder plugins
Adds search questions support to your existing Joomla smart search component.
Get notified about all activities on questions and answers.
Subscribe to questions and categories
Users can subscribe to categories and questions of their interest and manage their subscriptions from a dedicated page.
Get notified
All subscribed users will get notified with email notifications when the subscribed activity is performed on them.
We have flexible pricing plans. Choose the extension you want or save money by puchasing one of our curated bundles.
Community Answers
Pro
$50
Feedback Bundle
4 extensions, Save 40%
$149
All in One Bundle
All extensions, Save 75%
$249

30 day money-back guarantee if you're not satisfied
Frequently Asked Questions
We consolidated and answered few questions most frequently asked by our customers, please read the them below.