Self hosted polls
Host polls on your website and store all data on your server with self-hosted polls system. Your data is fully protected and securely stored on your server.
User friendly design
Create polls from both front-end and back-end interface in minutes. All design elements are carefully arranged for great user interface.
Faster performance
Designed and coded from the ground up with Joomla pure MVC design. The code is light weight, loads and runs faster. Runs on shared hosting as well.
Create fully functional polls in a matter of minutes with single page poll creation form.
Radio, choice or grid
Create single selection or multi-selection polls and grid type polls with simple form.

Advanced customizations
When needed, all advanced customization options are available for you to change them on the same form.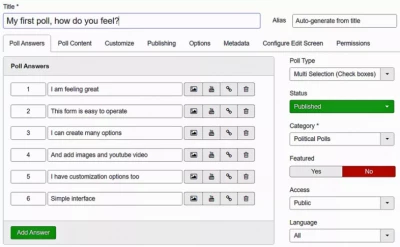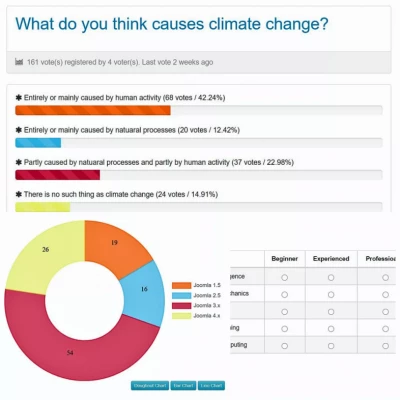 Whether you want to show the results immediately to the users or you want to see detailed reports, its your choice.
Instant results
Show the result of the poll immediately or hide it only for admin use. You can even show the results to only a set of user groups with permission settings.
Detailed reports and responses
When needed you can see each individual response of the users and download them as a CSV file from your back-end administration page.
Get more visitors to your sites by allowing users share your poll and spread the word among their social connections.
Bookmarks & sharing
With AddThis service integration, you can quickly enable the social sharing buttons on your polls.
Votes timeline & suggestions
Voting timeline allow you to display the historical voting timeline on a chart. Show list of other polls in multiple suggestion lists to engage your visitors on all polls.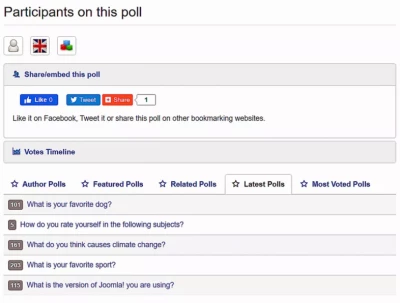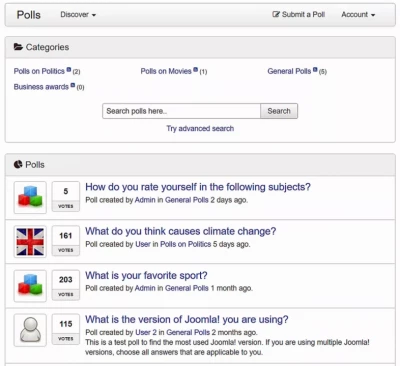 Not just the back-end, you can create and manage polls from front-end as well. You can allow front-end users create their own polls with powerful permissions system.
Poll creation form
Allow registered users to create therir own polls and manage them. The front-end form is user friendly and easy to use.
Public polls listing
All your polls can be listed on the website with the provided menu items. Or you can use the bundled module to display the list anywhere on your site.
Community Polls comes with all required addons to integrate polls on your website, be it a module or a plugin.
Random poll & content polls
Show polls on any module position with the bundled module. Embed polls into your Joomla! articles with the content poll plugin provided.

User data management
Users can view and download their data such as polls and votes from the toolbar menu. It gives them full control on their data.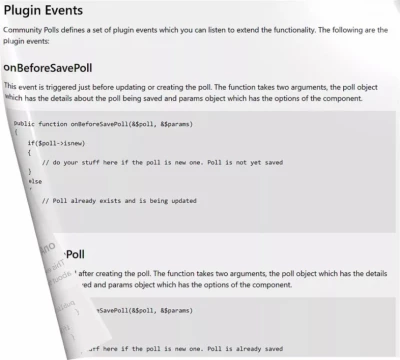 Community Polls is fully customizable with layout overrides and is extendable.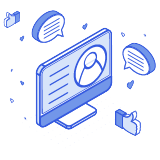 Plugin events
Extend the functionality of Community Polls with the built-in plugin events support. Trigger additional actions when the users created the polls or voted on them.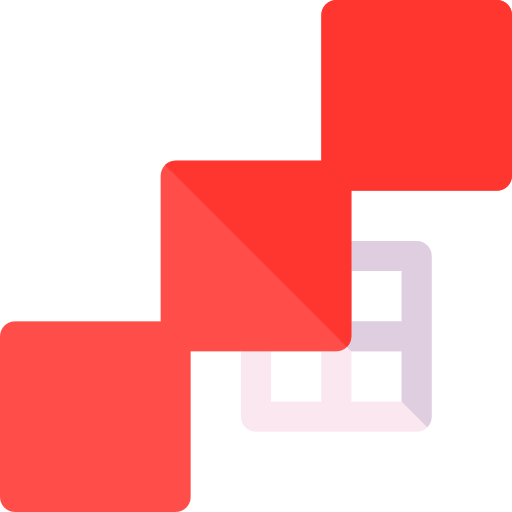 Joomla! MVC & layout overrides
We developed code with simplicity in mind. Following Joomla! MVC design and layout overrides, customizing the extensions is easier.
We have flexible pricing plans. Choose the extension you want or save money by puchasing one of our curated bundles.
Feedback Bundle
4 extensions, Save 40%
$149
All in One Bundle
All extensions, Save 75%
$249

30 day money back guarantee if you're not satisfied
Why Choose Our Extensions
Choose the right software to build your business. We provide world-class software and service at competitive prices. See below the advantages of choosing our software for your business.
High Experienced Company
With over 12 years of experience with Joomla! development, we are one of the very few developers who have vast experience into insights of Joomla!.
High Security For All Data
We start any development with data security as our first priority. We follow Joomla! best practices to develop the most secure extensions.
Most Popular, Well Tested and Stable
We have a bouquet of most popular Joomla! extensions developed over the last few years and they are the most stable extensions available.
Dedicated Support
We provide world-class support to complement your purchase. Having trouble with setting up the extension? We are just around the corner to help you.
Frequently Asked Questions
We consolidated and answered few questions most frequently asked by our customers, please read the them below.