Self hosted quizzes
Host quizzes on your website and store all data on your server. Your data is fully protected and securely stored.
User friendly design
The component is designed with user friendly interface to easily access all features even for the beginners.
Faster performance
Designed with simplicity in mind. The code is light weight, loads and runs faster. Runs on shared hosting as well.
Quickly build community driven quizzes feature on your Joomla! website. Add quizzes and courses in minutes. Quizzes and courses are shown in tabs for easy navigation.
Category listing
Quickly access categories right on top of the quizzes listing to easily navigate to the required content. Navigate to subcategories by simply clicking on any category.
Quick search
Quickly search the quizzes and courses using the search bar and access the advanced search page. Search bar is optional and can be disabled with one click.
List cards with avatars
Shows quizzes listing on user friendly cards with user avatar, number of hits, ratings, descriptions, difficulty levels, bounties and more.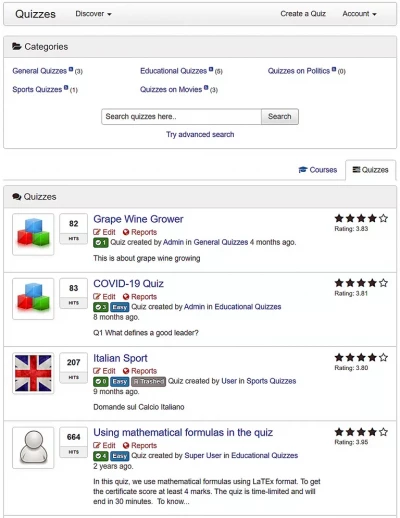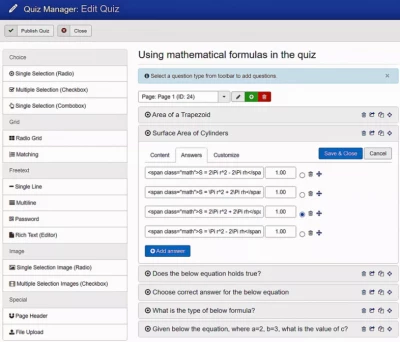 Creating quizzes is never been so easy. Our one page quiz form lets you create simple to complex quizzes without much effort.
Multiple question types
All required type of questions available simple radio boxes to more complex grid question types.
Single page, full featured
Create and edit questions, drag to sort them, unlimited pages, unlimited questions, page titles. The ajax enabled form has ton of features for you to dive in.
Not just a great form to build your quizzes, Community Quiz has the best in class reporting system to visualize the outcomes of your quizzes and understand how the users perform with them.
Reports dashboard
Quickly visualize where your users are located, quick statistics and the most recent user responses with their scores.
Quick statistics
View the overview of your quiz performance with quick statistics and access to more detailed reports with the links to them.
Top scorers
Get the insights into who are performing the most with the top scorer board on the main dashboard.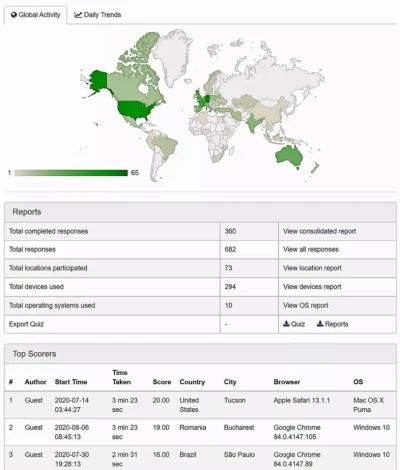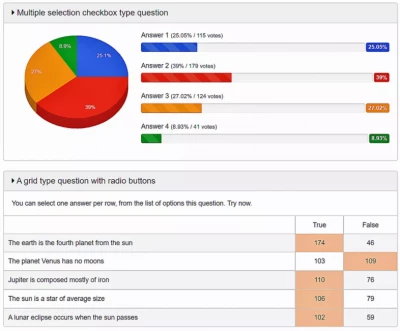 Not getting good answers? Reward users with bounties and get the best answers to your questions.
Advanced visualizations
Get insights of all questions of your quiz with charts and statistics on the same page. Summarizes all your quiz responses on a neat report.
Download responses
View each response details or download all your responses in a CSV file, the reports are flexible.
Allow your users to create and manage their own quizzes with all features available for them to use.
Customizable
All advanced features available when needed, the options are customizable and easy to configure.
Joomla! editor support
Create the full HTML enabled questions answers with the Joomla! WYSIWYG editor support.
Custom scorewise messages
Configure custom messages that are shown based on the the score user scored in a quiz.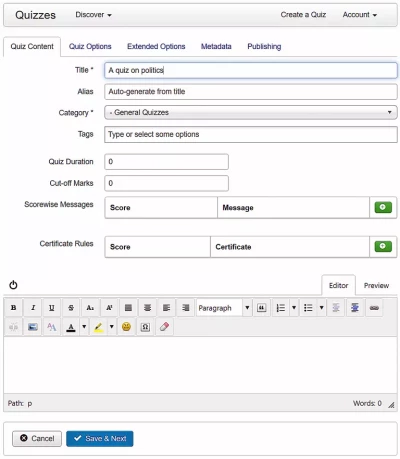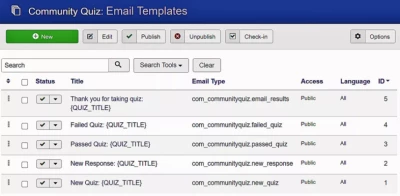 Customize the content of each email sent from the component.
Customize with editor support
Customize the email templates with full HTML editor support
Multi-language support
Create different emails for each language and they are automatically selected based on user languge.
The component bundled with most needed modules and plugins.
Scorewise certificates
Award certificates based on the user scores. Create and manage multiple certificates.
Multilanguage support
Create different certificates for different languages. Right certificate will be automatically selected.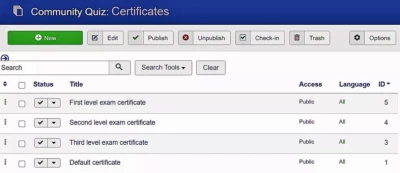 Define multiple difficulty levels and assign them to your quizzes
Customizable levels
Create your own difficulty levels and tag them to the quizzes.
Get notified about all activities on questions and answers.
Combine quizzes into courses
Create multiple quizzes and club them into a course. Assign course completion certificates.
Learning path
Allow access to quizzes only when the previous quizzes are completed or allow all of them at a time.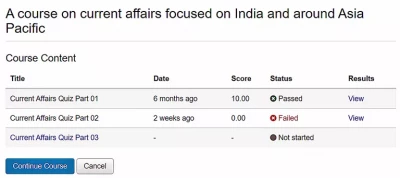 We have flexible pricing plans. Choose the extension you want or save money by puchasing one of our curated bundles.
Speciality Bundle
4 extensions, Save 50%
$149
All in One Bundle
All extensions, Save 75%
$249

30 day money back guarantee if you're not satisfied
Why Choose Our Extensions
Choose the right software to build your business. We provide world-class software and service at competitive prices. See below the advantages of choosing our software for your business.
High Experienced Company
With over 12 years of experience with Joomla! development, we are one of the very few developers who have vast experience into insights of Joomla!.
High Security For All Data
We start any development with data security as our first priority. We follow Joomla! best practices to develop the most secure extensions.
Most Popular, Well Tested and Stable
We have a bouquet of most popular Joomla! extensions developed over the last few years and they are the most stable extensions available.
Dedicated Support
We provide world-class support to complement your purchase. Having trouble with setting up the extension? We are just around the corner to help you.
Frequently Asked Questions
We consolidated and answered few questions most frequently asked by our customers, please read the them below.