Author Profiles
Community Quotes supports built-in author profiles and the users can create the profiles.
Unlimted Categories
Supports unlimited quotes categories and unlimited author categories to allow easy organization of your data.
Quote Comments
Supports most popular Joomla! comment extensions as well as external services such as Facebook comments.
Give access to all quotes on beautifully designed front-end listing page including the tags, description and other information.
Category listing
Supports unlimited multilevel categories, displayed on a beautiful index page to easily navigate to the right forum.
User friendly toolbar
Get access to most important shortcuts of the component from the toolbar, and the buttons to create and manage quotes.
Author avatars and hits
Show avatar of the author who said the quote and the number of times the quote was seen by the users.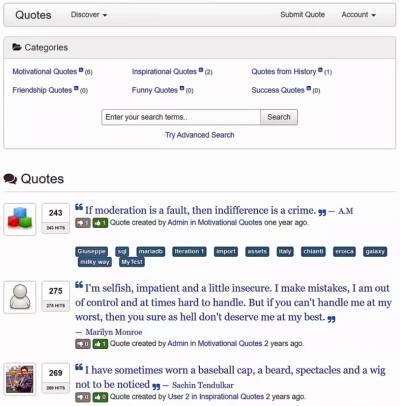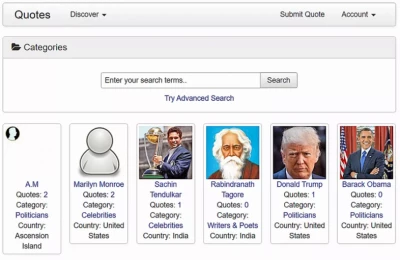 Show all the authors on your website for easy access to their profiles.
Author listing with avatars
Show author details and avatar and link them to their profile page. Arranged in neat cards style.
Navigation & search
Authors can be easily searchable and can handle thousands of authors with easy navigation.
Create simple to most complex forum structure with unlimited, multilevel categories with built-in support for Joomla! category system.
Unlimited categories
Community Quotes utilizes Joomla! category system to build unlimited multilevel categories.
Category level permissions
Configure permissions at each category to allow the users to create quotes or to view them.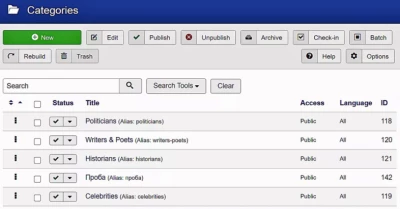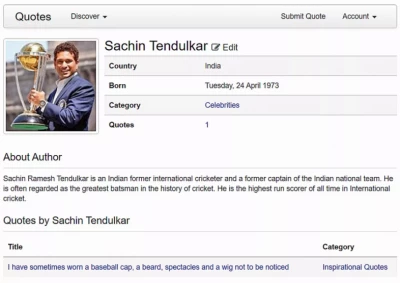 Create and show author profiles and your users can select them and add the quotes.
Front-end creation
Author profiles can be created from front-end with ACL support. Allow your users to post the author profiles.
Author details and quotes
Author profile can be shown with all author details and the quotes linked to the profile. Authors listing can be linked to respective profiles.

We have flexible pricing plans. Choose the extension you want or save money by puchasing one of our curated bundles.
Feedback Bundle
4 extensions, Save 40%
$149
All in One Bundle
All extensions, Save 75%
$249

30 day money back guarantee if you're not satisfied
Why Choose Our Extensions
Choose the right software to build your business. We provide world-class software and service at competitive prices. See below the advantages of choosing our software for your business.
High Experienced Company
With over 12 years of experience with Joomla! development, we are one of the very few developers who have vast experience into insights of Joomla!.
High Security For All Data
We start any development with data security as our first priority. We follow Joomla! best practices to develop the most secure extensions.
Most Popular, Well Tested and Stable
We have a bouquet of most popular Joomla! extensions developed over the last few years and they are the most stable extensions available.
Dedicated Support
We provide world-class support to complement your purchase. Having trouble with setting up the extension? We are just around the corner to help you.
Frequently Asked Questions
We consolidated and answered few questions most frequently asked by our customers, please read the them below.