Self hosted surveys
Host surveys on your website and store all data on your server. Your data is fully protected and securely stored on your server.
User friendly design
Create surveys from both front-end and back-end interface in minutes. All design elements are carefully arranged for great user interface.
Faster performance
Designed and coded from the ground up with Joomla pure MVC design. The code is light weight, loads and runs faster. Runs on shared hosting as well.
Create and edit all questions on a visual form builder effortlessly. Get an overview of your entire survey questions without leaving the page. The form builder supports all the features of Community Surveys including conditional rules form, WYSIWYG editor and more.
26 question types
Build your survey with 26 different question types and several variations. The limit is your imagination.
Conditional rules builder
The form builder has built-in support to create and edit conditional rules on the questions.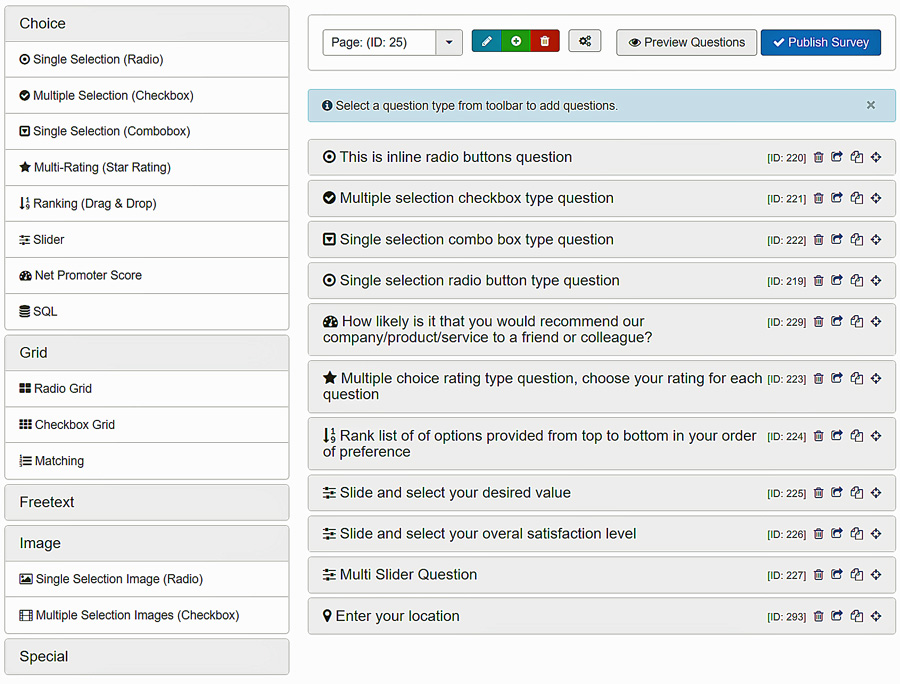 Community Surveys has built-in reporting engine to render your customer responses on the charts. It has all the tools you needed in a professional survey software.
Consolidated report
The consolidated report visualizes your entire survey responses on a single report with stunning charts and other visual tools. Get insights into your survey and make decisions. Apply filters to deep-dive into the responses.
Customer Insights
View all responses or download CSV file, user demographic charts, device information and more. All these reports are presented on good looking charts and tables.
Reports dashboard allows you to quickly look into where your customers are taking surveys from and provides you access to all other reports.
Locations map
See where your users are located with geo location support. The world map with number per geo-location are shown on the dashboard for quick view.
Quick stats and links
Quick overview of number of completed and total responses, locations, devices and operating systems are shown and links to detailed report are given on the dashboard.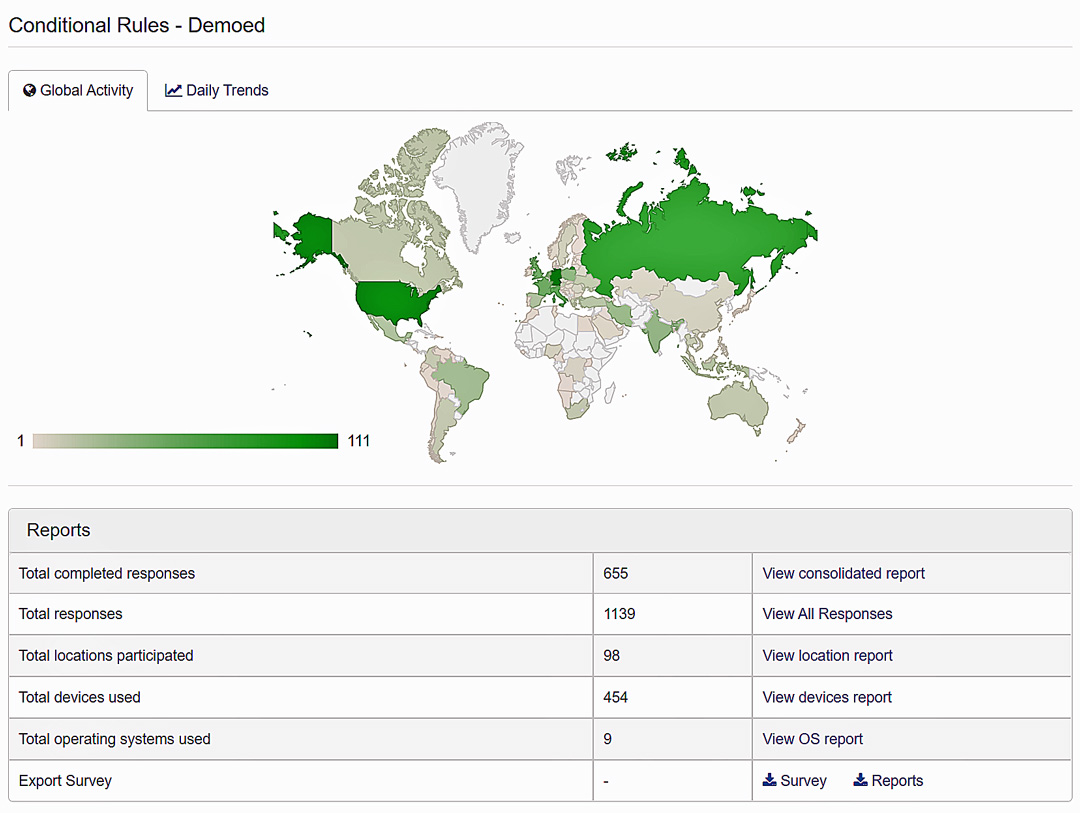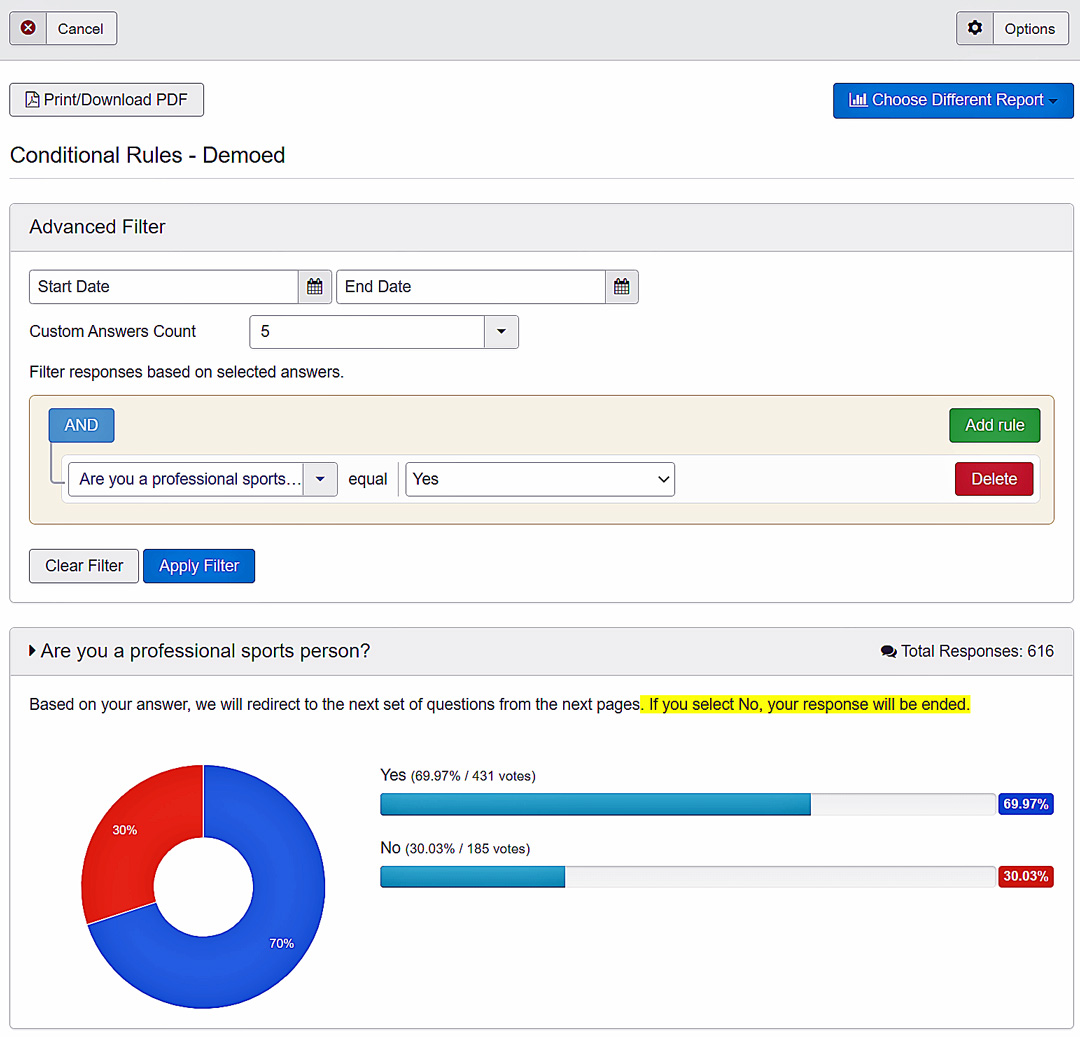 Want to see overall statistics of all your survey responses? Consolidated report can do it for you.
Charts and statistics
The summary of all of your questions are presented on charts and tables (wherever applicable). View the custom answers given by the users for each question.
Advanced filters
Customize your consolidated report by applying date filters and question answer filters. Find what your customers are saying and derive right decisions.
Curious about what type of browsers most of your users are using? Browsers report gives you the overview of it.
Detailed list of browsers and versions
Get the detailed list of browsers and their versions your users are used to respond to the survey.
Export & download
Download entire browsers listing to an excel or pdf report and analyze them on your favorite tools.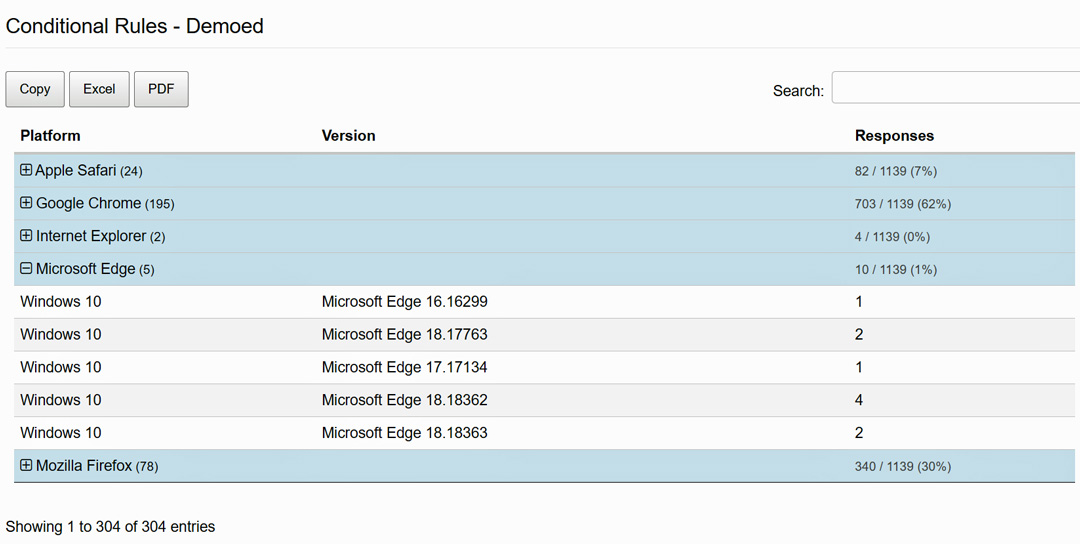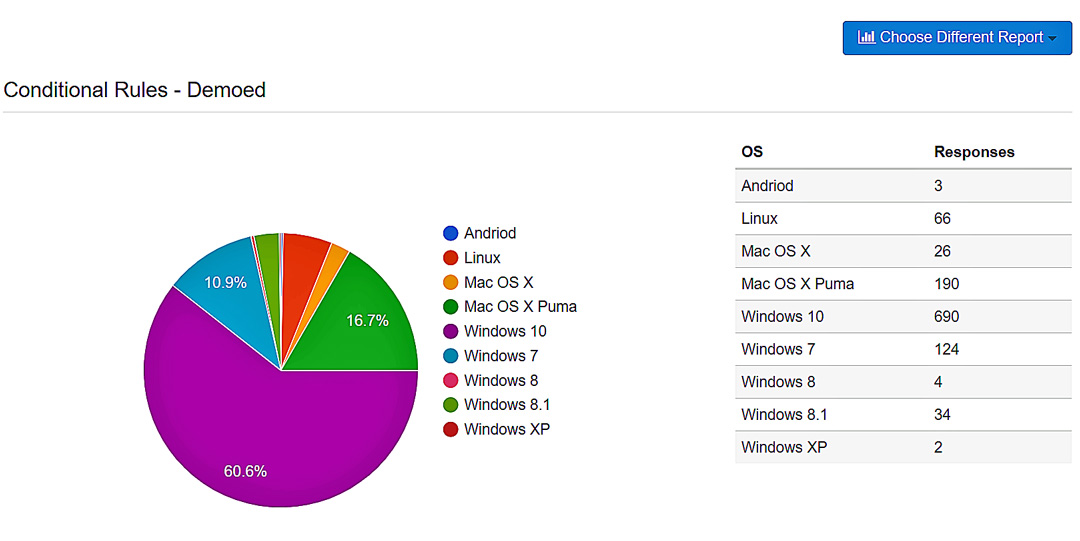 Shows detailed report of what operating systems your users are using to respond to the survey.
Operating systems chart
The pie chart shows the detailed share of each operating system that your users are using.
Detailed report
When needed the responses list includes the operating system details for each response, you can download full report in a CSV file.
Drill down the detailed locations list with the precision data till the city of the users with MaxMind geo location data.
Location chart
Visualize the distribution of your survey responses and their locations on the world chart.
Detailed list
View detailed list of countries and cities from where the users are responded to your survey. Download the report to an excel file or a PDF file.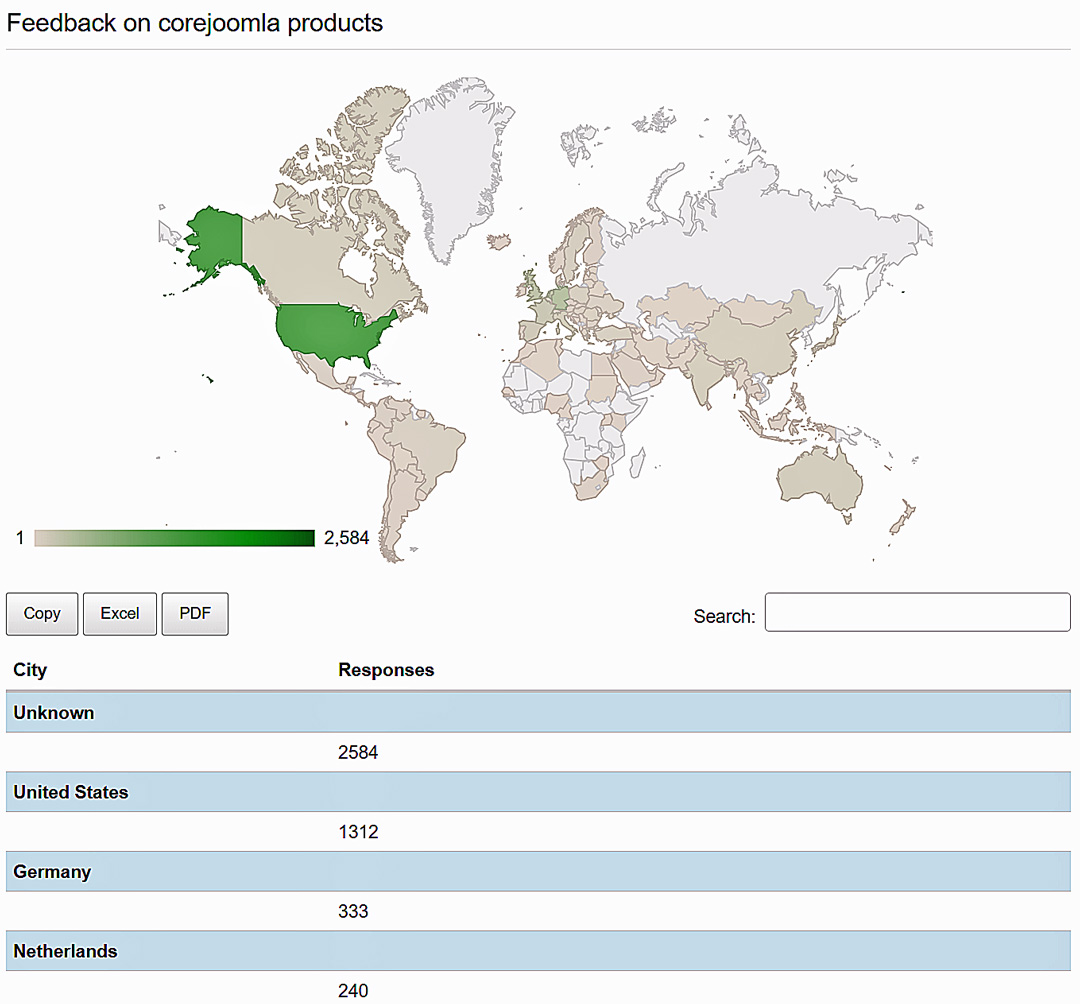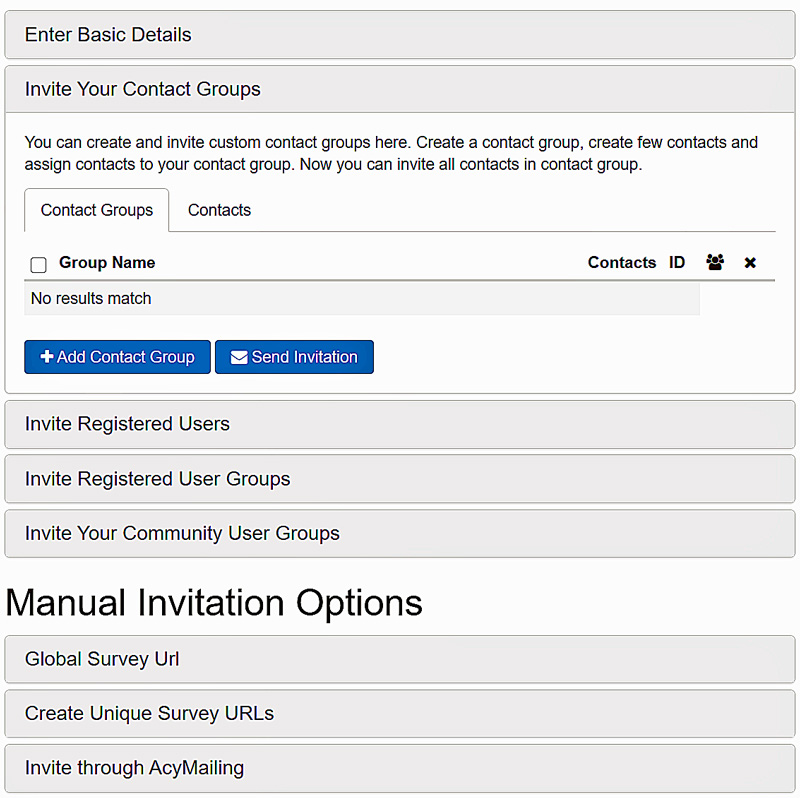 No hassles of manually sending links. With the built-in invitation engine, Community Surveys lets you send the survey to all your users at one go.
Contacts and contact groups
Import your contacts and arrange them into multiple contact groups. Send invitations to desired contact groups as per your business needs. Community Surveys supports unlimited contacts and contact groups.
Registered & community groups
Already have users registered? Or using a community extensions? With buil-in Joomla and social extension integrations and newsletter extensions integration, sending invitations with one click.
Customize the content of each email sent from the component.
Customize with editor support
Customize the email templates with full HTML editor support
Multi-language support
Create different emails for each language and they are automatically selected based on user languge.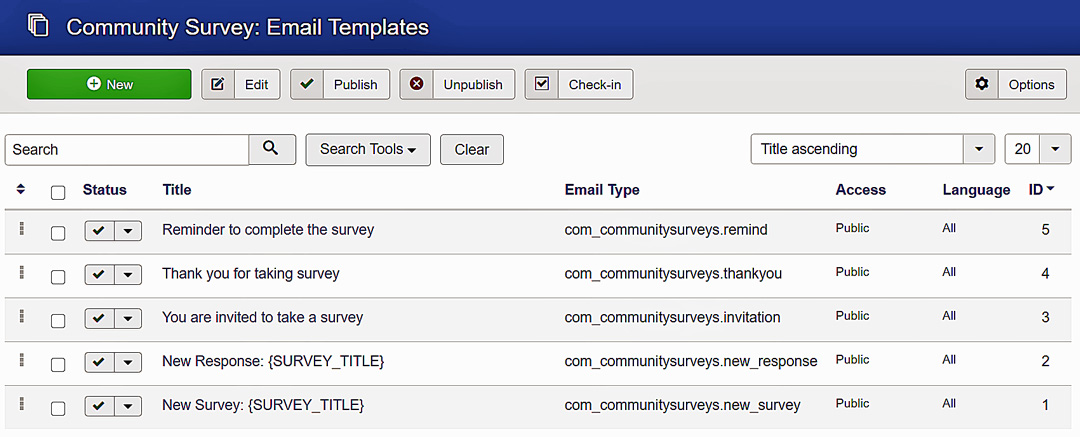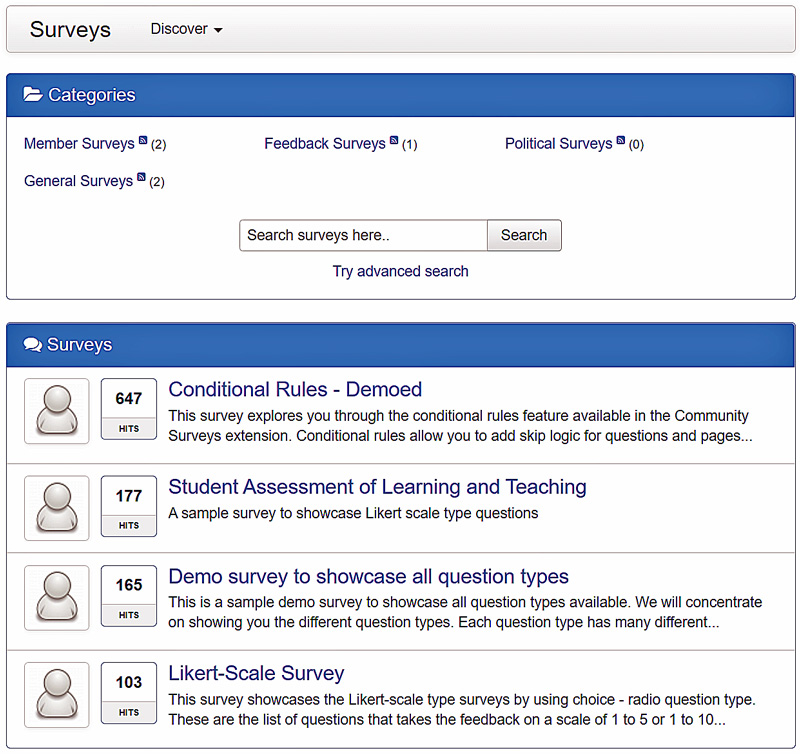 Surveys can be managed not just from back-end, but also from the front-end. You can even allow your users to create and manage surveys on their own. Control the front-end access with powerful permissions system.
Front-end form builder
With the same form builder as back-end, front-end users can create powerful surveys just as admin users. Users can create and invite their own contact groups and manage their own survey reports. All with an efficient permission system.
Private surveys and public surveys
Community Surveys comes with menu items show the surveys listing on front-end. If you do not want public listing, you can create private surveys as well and send invitations only to required users/groups.
Community Surveys is well integrated with the major Joomla! extensions from renewed developers. Extend the functionality with one click integrations.
Modules and plugins
All required modules and plugins of the component are bundle. Whether you want to display a survey in a module position, or in an article, its much easier.
Third-party integrations
Already using a points system, user profile system, activity streams or a community extension? We have integrations for the most popular Joomla extensions.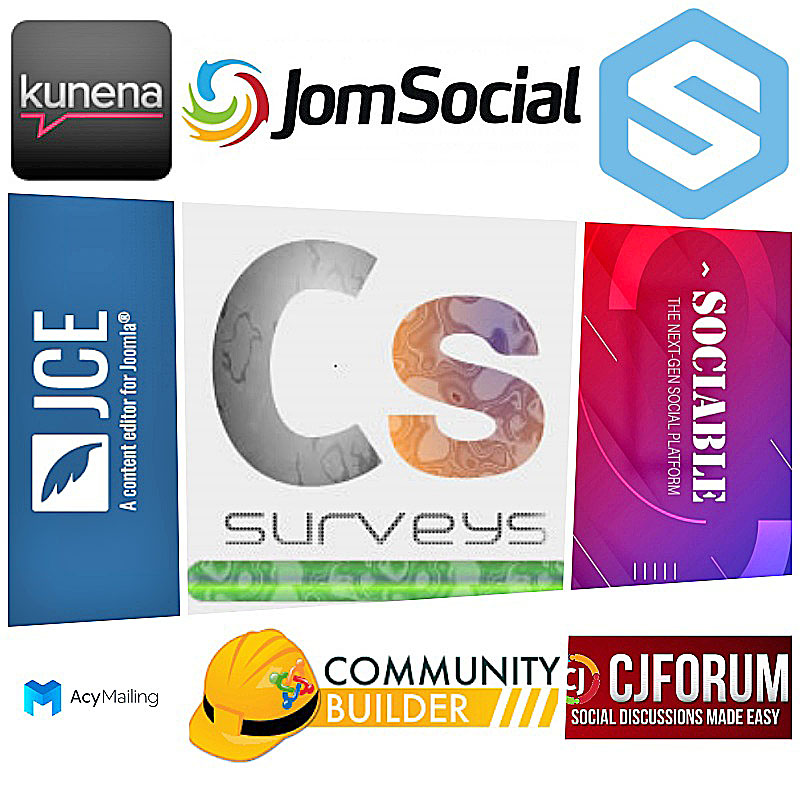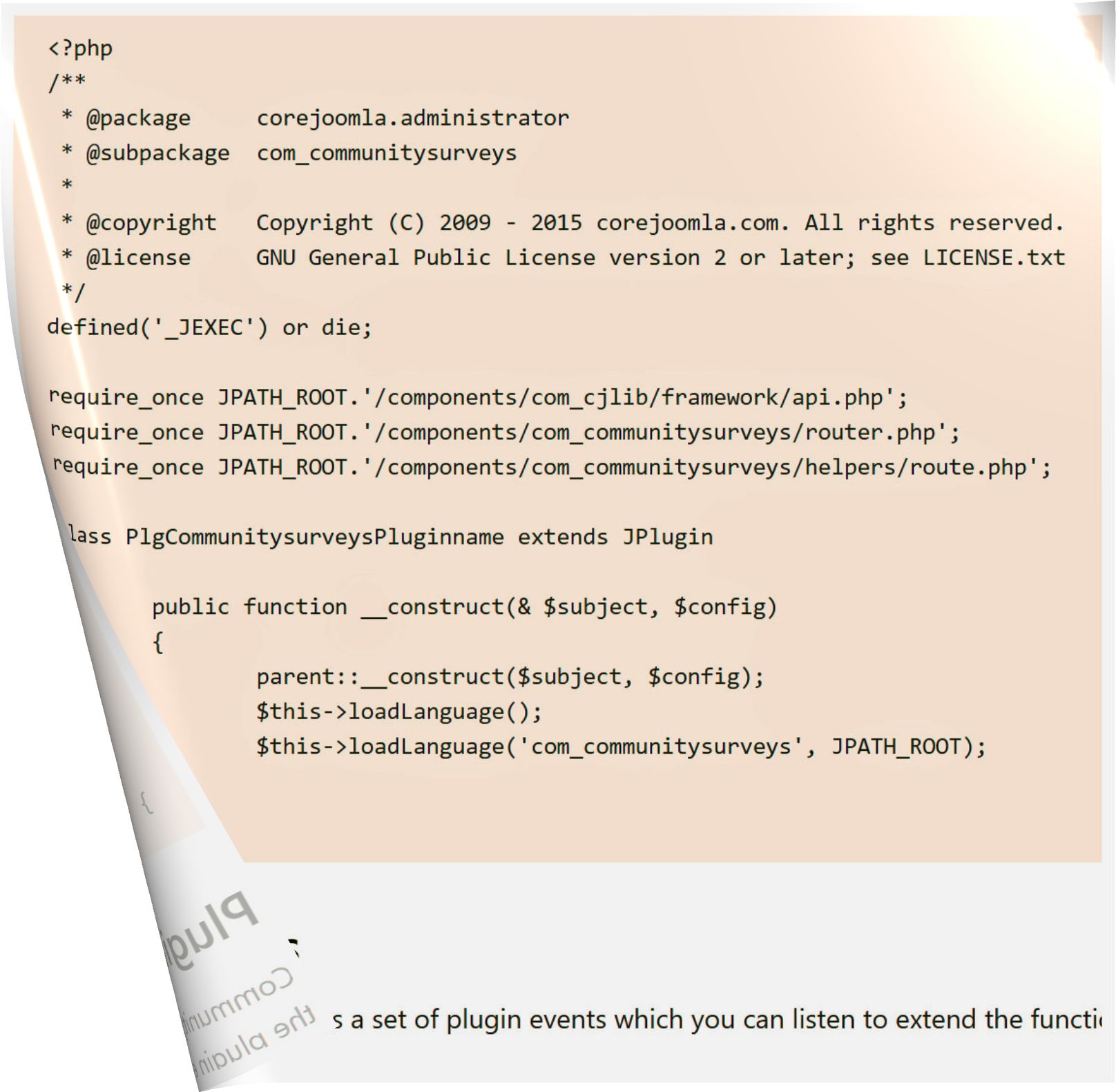 Community Surveys not just easy to configure for the beginners but also has very advanced features including the developer friendly plugin events system to extend the functionality.
Plugin events
Extend the functionality of the surveys with simple plugin events. For example, send an email to administrator after someone respond to your survey or call a webservice to send data and so on.
Joomla! MVC & layout overrides
We developed code with simplicity in mind. Following Joomla! MVC design and layout overrides, customizing the extensions is easier.
Create simple to most complex forum structure with unlimited, multilevel categories with built-in support for Joomla! category system.
Categories & forums
CjForum utilizes Joomla! category system to build robust forum structure with unlimited multilevel categories.
Category level permissions
Configure permissions at each category to allow the users to create topics or to post their replies.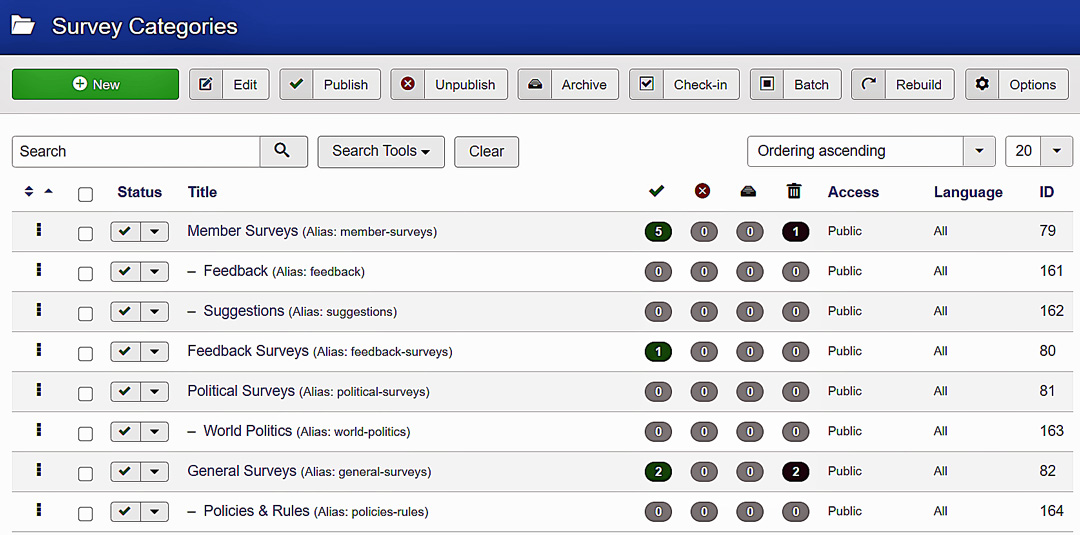 We have flexible pricing plans. Choose the extension you want or save money by puchasing one of our curated bundles.
Community Surveys
Pro
$75
Feedback Bundle
4 extensions, Save 40%
$149
All in One Bundle
All extensions, Save 75%
$249

30 day money-back guarantee if you're not satisfied
Frequently Asked Questions
We consolidated and answered few questions most frequently asked by our customers, please read the them below.